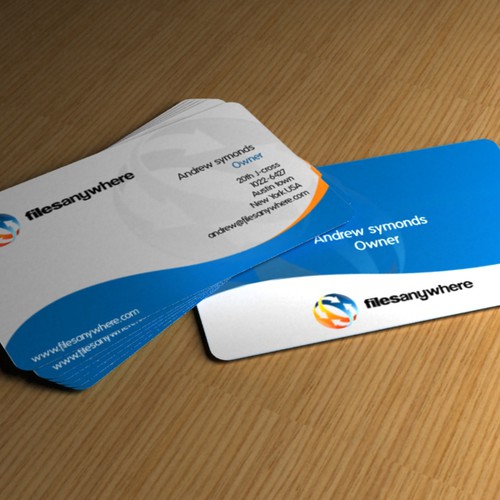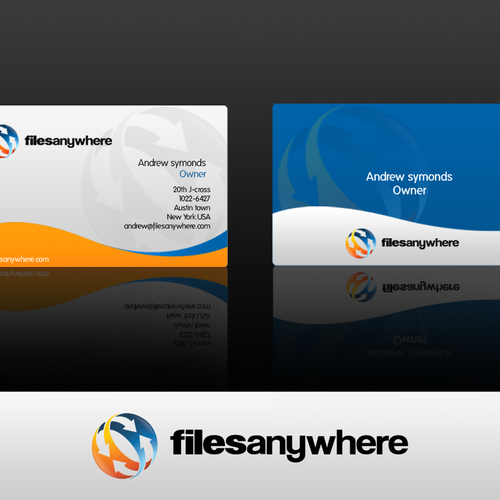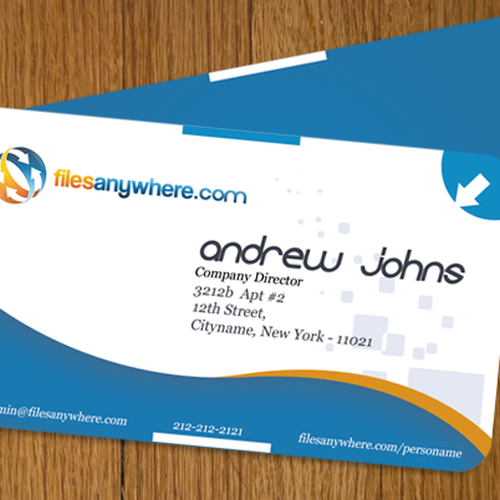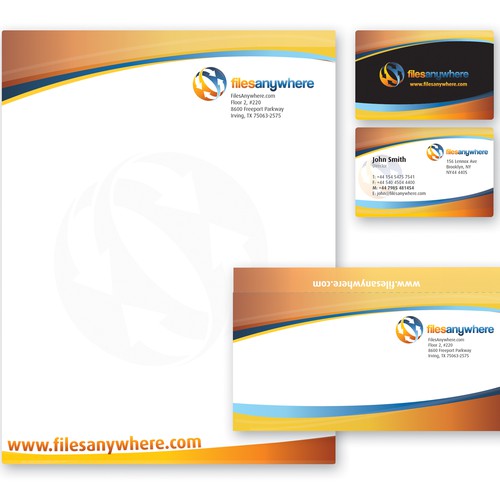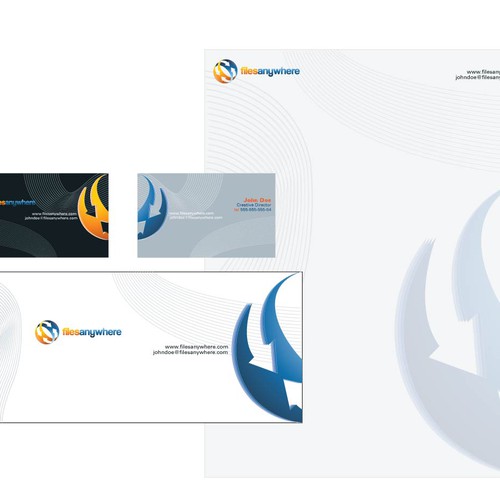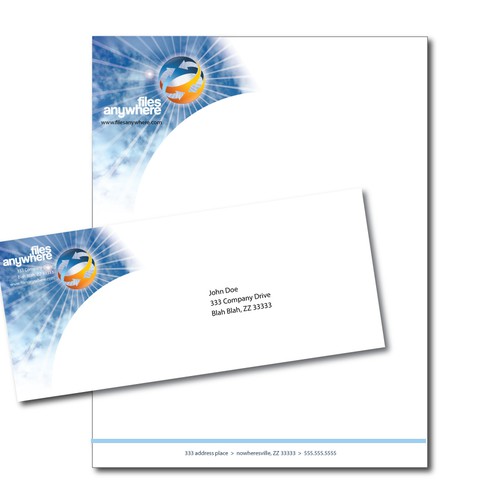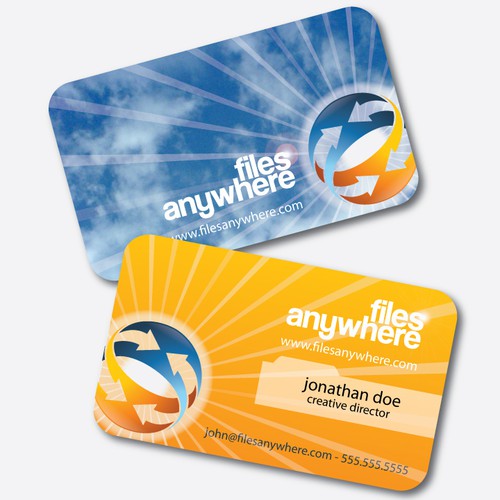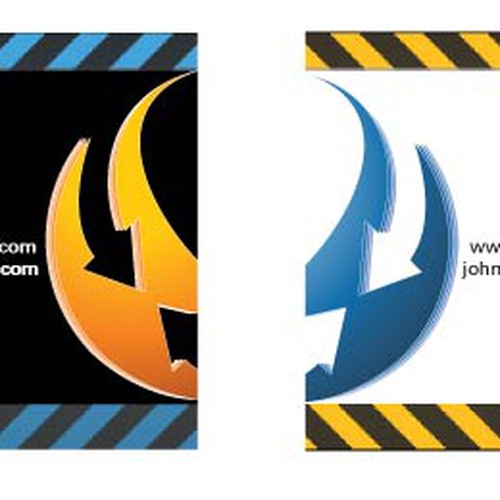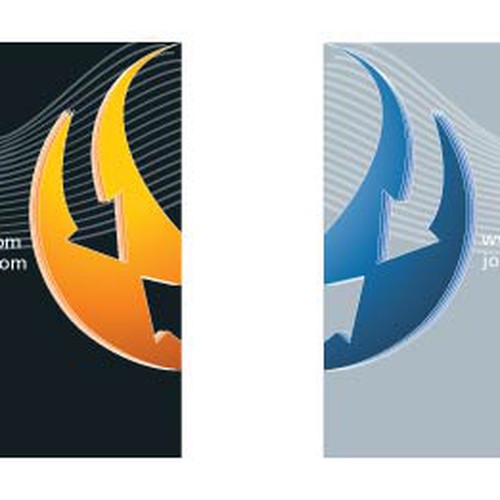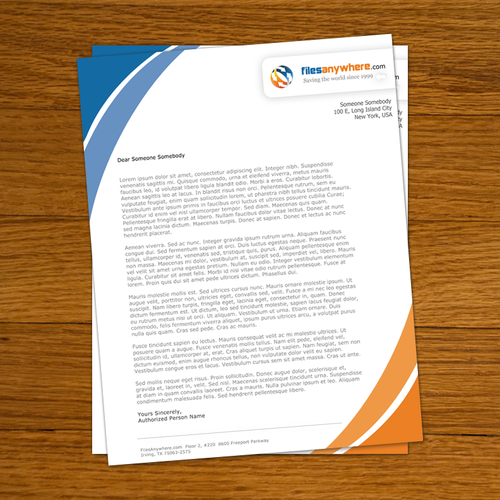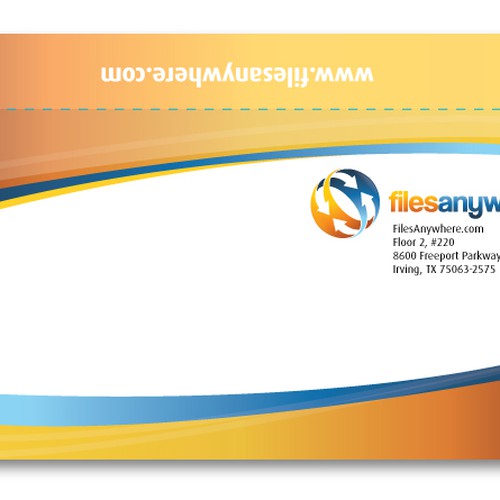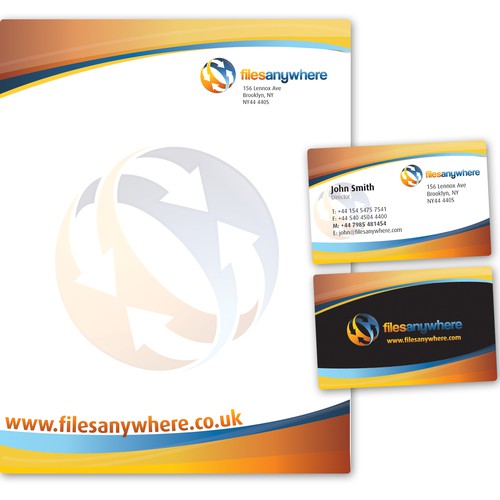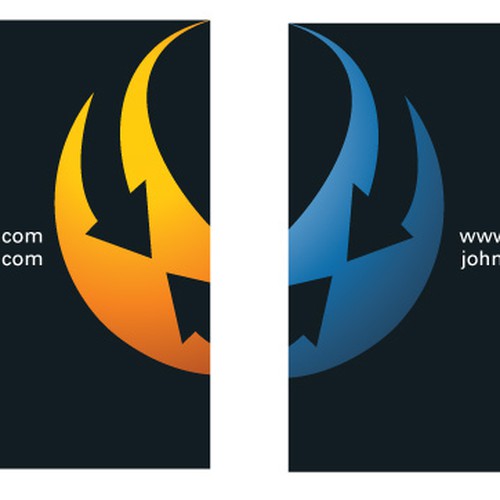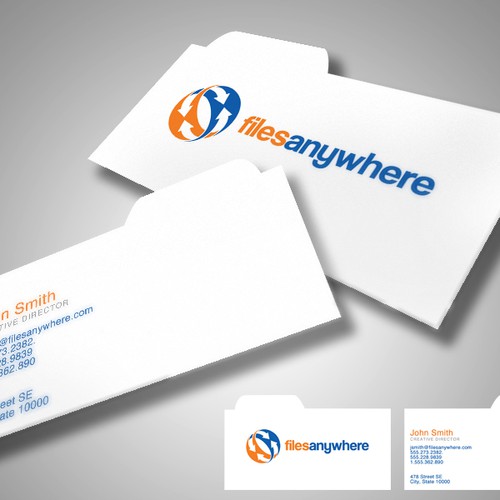 Come FAW Designs ha cominciato il suo viaggio per il design di carta intestata
Riassunto
Popular Web 2.0 company needs Business Card, Letterhead, and envelope design.
FilesAnywhere.com recently had a great new logo designed at another 99Designs contest. Now we need the logo applied in a very creative, colorful, high-impact design for our business cards and stationary.
Unleash your creative power! :)
Nome azienda
Che cosa ti ispira e qual è la visione del design della tua attività?
NEXT-GEN DESIGN?
We want the design to be "IPod generation",cutting edge, cool, colorful and/or modern in feeling.   The businesscard should be front and back, emphasizing the color theme and style of ourlogo, in either a "radical" way or "super smooth" way (or both!).
   
The designshould work with standard business card size.  We can consider rounded edges on the card as an option forprinting since this looks cool, and some printers can do that.
  
Letterhead:  US letter size paper (8.5 x 11 inch). Envelope:standard size.  Most letters will be for customer account correspondenceand marketing letters, so the larger percentage of the paper should be open (page-length border graphic or faint watermark may be acceptable, if that is your recommended design, but the letter area should not be dominated by graphics or solid colors). 
  
Please access our logo artwork for the contest here:
Mi piace
- Our web address should be clearly visible on thecard and the letter.   www.FilesAnywhere.com  The web address should be visibleon the front and back of the card since people look for that.
 
- Basic info on the card should include Name,Title, Address, several phone numbers, fax and an email.
 
- The emailaddress should be clearly visible since this is just as common now as a phone number toreach people. 
 
- We want our cards to really STANDOUT from all of the everyday cardspeople normally get. So radical, fresh ideas are encouraged here. 
 
- Design should reflect our "high-tech", cutting-edge web service.  It could be 3D in appearance - that sometimes looks very cool.  Designs might overlap, or be enlarged - that can look cool too.  It's your design, no limits!
    
- FYI - we don't want to limit the design of the cards and stationary, but it can be somewhat consistent with our website - which is now being redesigned.  The winning website we recently chose that we are about to release is here:
http://99designs.com/contests/12913…ies/956493
  
- Aneye-catching design on the back of the card that is compatible with our logoand captures the essence of our service would be really neat.  (again the back should show our web address also).
  
- Experience preparing the design for PRINTERS would be very helpful, since we are not experienced in this.  (ex:  do printers need CMYK color separation for best printing?  what size artwork originals do most printers like to have: really large size and resolution or actual size?)
  
- Graphics done for the business card and letterhead *could* be used later for some web pages - just a thought to consider, in case this changes how you prepare the original graphics  (ex: maybe the letterhead header or footer styles could support very large page widths also, when delivering versions of the final artwork - such as 1 output version of the card and stationary artwork for the printer, and also 1 output version of the artwork containing the raw graphics for later reuse by our graphics people).
   
- The printer should be able to change the FONTS used very easily to create the different names, update phone numbers and reprint, etc.  If the fonts are embedded in the source graphic - it should be easily changeable.
Non voglio
- The design should not appear cluttered or too busy. 
(smart use of open space can make the design look very clean)
 
- The design should not appear to be "cartoony" or "blocky"
(the design should be flowing and smooth and professional in appearance)
 
- The design should not look different on screen than when it is printed  (the design should be done so that the printed version looks just as spectacular and is not limited by common professional printing limitations)
 
- Consider line wrapping on text items, when positioning people's names and job titles on the business card - these can be long.  (examples of maximum character lengths: "Abraham Kasperaninov", "Director of Strategic Thinking & Planning")
Abbiamo trovato dei contest simili che potrebbero interessarti