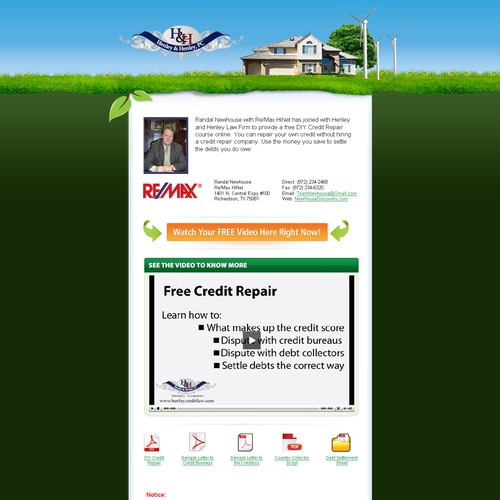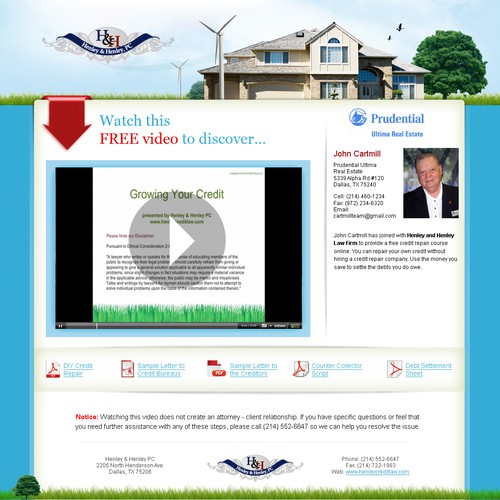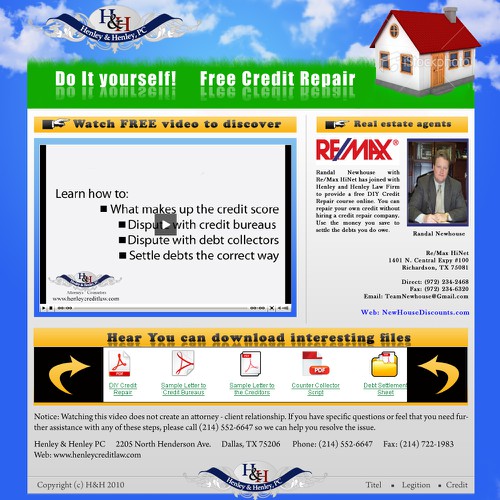 Come Cerionet ha cominciato il suo viaggio per il design di pagine internet
Panoramica
Henley & Henley PC is teaching people how to repair their own credit without the need to hire a credit repair company. We offer a free video and all the forms to do your own credit repair.
The current design was a quickie and is not very appealing.
Dicci qualcosa su di te e sulle persone che vuoi raggiungere
We are using this website page to give out to real estate agents / loan officers / and financial advisors so they can send their clients to the website to learn how to repair their own credit. This is meant to be used by the end user. The idea is that if the website is co-branded, they are more likely to hand it out.
Richieste
Current Page Samples are:
http://www.henleycreditlaw.com/re/example.html
http://www.henleycreditlaw.com/re/j…tmill.html
http://www.henleycreditlaw.com/re/r…house.html
I would like to see a more illustrative real estate theme. The reason most of these people are cleaning up their credit is to purchase a home. One of the marketing pieces that I do like is the CRC flyer attached. I DO NOT WANT TO MATCH IN ANY WAY THE STYLING OF THE CURRENT WEBSITE fount at henleycreditlaw.com. I want a more 2.0 feel.
The elements that are important is that I can easily stick in the loan officer's / real estate agent's logo in the upper left hand corner. I would like to maintain in a more professional look the right hand column that has the picture. I am not happy with the size of the pic. I need help right sizing it. But I do need the information present from the sample pages on your design.
The video is the most important item on the page. Underneath the video, are currently the icons for the pdf downloads. I would like a designer to use different icons for each downloadable forms.
I would like to have a bottom space for our information (Logo, address, etc) in the design.
Abbiamo trovato dei contest simili che potrebbero interessarti