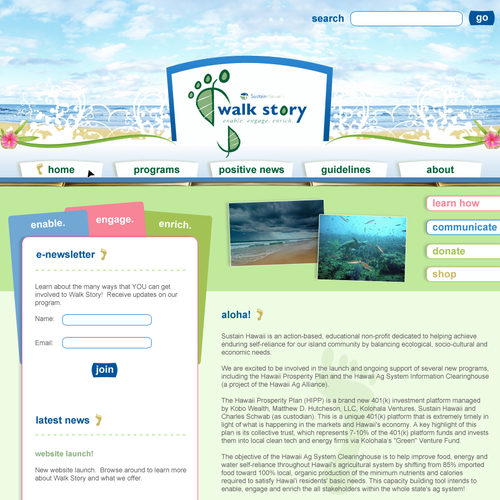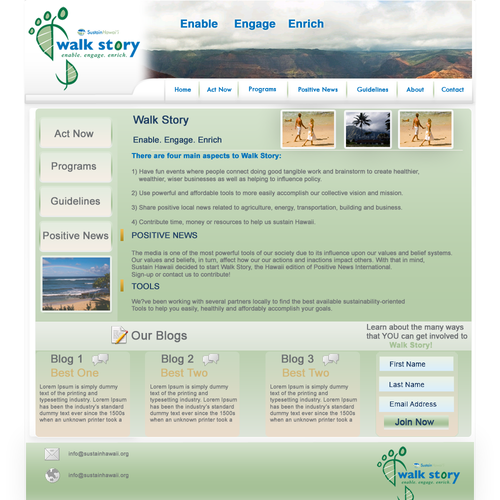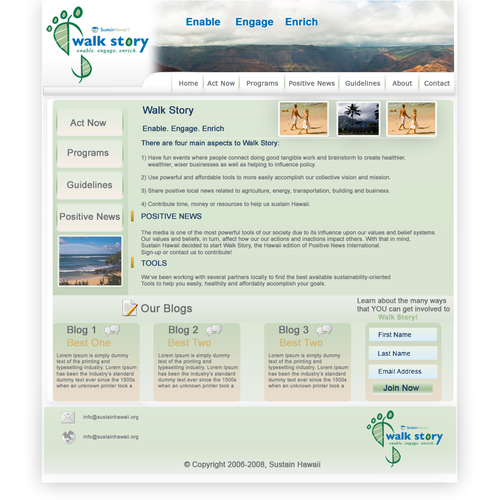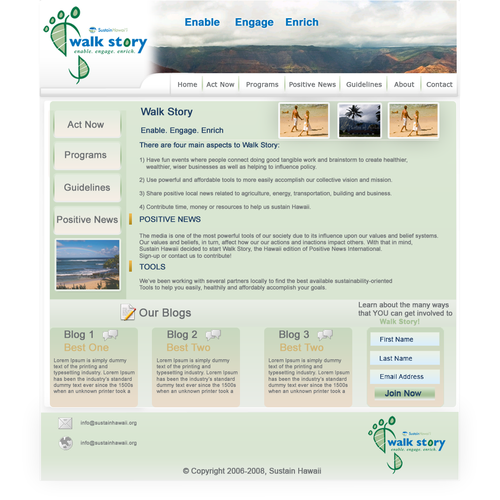 Come SustainHawaii ha cominciato il suo viaggio per il design di pagine internet
Riassunto
website design overhaul to reflect new action-oriented phase of development. looking for a clean, contemporary, yet timeless look with a hint of authentic hawaii. focus on local action, programs, positive news and guidelines, with a heavy reference to the global (i.e. "think global. act local."). our approach intends to help balance the needs of people, place and profit to produce prosperity. equity + ecology + economy = enrichment.
Nome azienda
Walk Story: Enable. Engage. Enrich.
Che cosa ti ispira e qual è la visione del design della tua attività?
The idea behind Walk Story is a blend of a local Hawaii saying called "talk story". which means just hanging out and chatting with friends, and "walk the talk". We want the site to convey that we are having fun with friends, talking and doing good work that makes the community and environment better off.
The best place to find out more about us is by going to our current website . It has the new site structure and content and now needs the form to wrap around it and fit it better. 
We have a few other relevant programs worth checking out:
- Hawaii Prosperity Plan
- Hawaii Policy Portal
- PIKO
- Sustain Hawaii Card Program
- Sustain Hawaii Shop
A place to look for good affordable authentic Hawaii images would be Photos of Aloha. If you find an image you like and the design is chosen, we will purchase the image(s). The main logo for the new website has been placed here really large since I couldnʻt attach a file to this description.
Mi piace
- logo w/tagline
- blues and greens as well as other earth tones
- very clean & simple, almost sparse (2.0ish style)
- friendly and warm, but professional
- ahupuaʻa imagery (from mountain to sea - mountains & waterfalls > taro plants, loʻi fields > reefs, ocean)
Non voglio
pineapples, hula skirts, diamond head, palm trees
Abbiamo trovato dei contest simili che potrebbero interessarti